KYLA is social butterflying it up all over town, so mark your calendars and pencil in some fun. No need to BYO-Booch.
Stand Up For Her
November 17 @ 6:30 pm

-

11:00 pm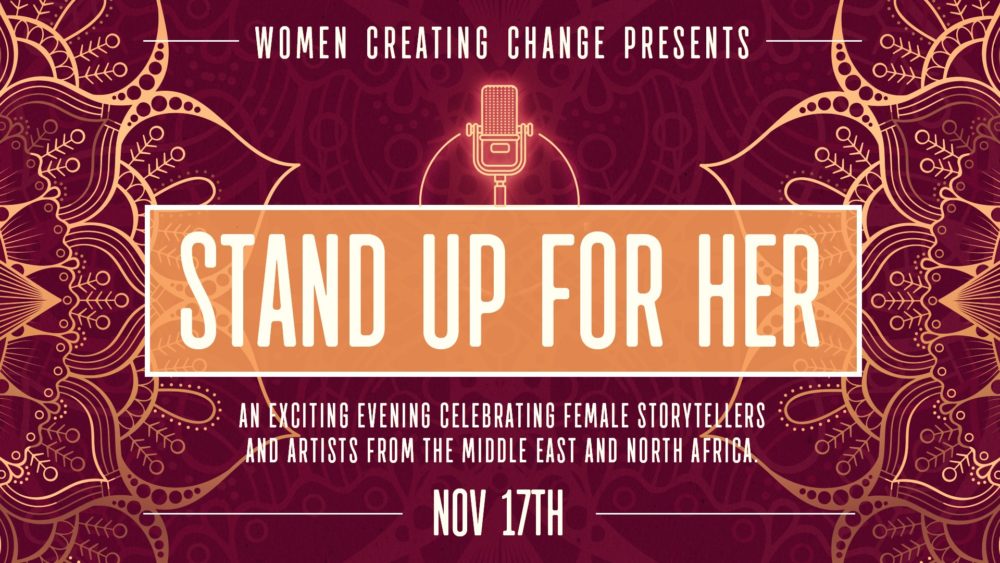 KYLA is a proud sponsor of  Women Creating Change  presents "Stand Up 4 Her"
A riveting and thought-provoking evening, celebrating female storytellers from the Middle East and Northern Africa.
Standup comedians, poets, musicians and artists from Lebanon, Egypt, Iraq, Syria, Iran, Pakistan, Morocco, Palestine, and Israel will share a stage to enlighten and entertain for one special night! We will bridge cultural divides through powerful performances during this memorable evening!
We will commence with a sponsored cocktail hour by Stella Artois and Dulce Vita, as well as scrumptious ethnic appetizers by Chef Oshri Vaknin. You'll enjoy an art exhibit, silent auction, and of course a live show at 7 PM , after which the evening will conclude with a dessert reception by The Baklava Factory, and networking to the beats of DJ Karina Kay.
**All proceeds from the evening will go towards expanding and creating new programs for female filmmakers.
Featured Stand Up comedians:
Crystal Marie Denha, Melissa Shoshahi, Noam Shuster, Nina Kharoufeh, Natalie Marciano, Zain Shami and Mona Shaikh.
Featured poets:
Shelly Skandrani, Salma El- Wardany, and Lee Broda.
Featured Storyteller:
Featured Fine Artists:
Stand Up For Her will be exhibiting the original artwork of Fadia Afashe (Syria), Pooneh Rafsha (Iran), Tasneem Rahman (Pakistan), and Ilanit Maghen (Israel), curated by Lauren Annette Schoth. Through the unique expressions of fine and contemporary art, stories are shared and voices are heard. In honor of supporting Middle Eastern female artists, proceeds from the silent auction and the evening as a whole will directly benefit WCC's mission and programs.
Music performance by Inbar Starr.
The evening will be hosted by Reem Edan and Gal Macadar.